F2U Hooved Bases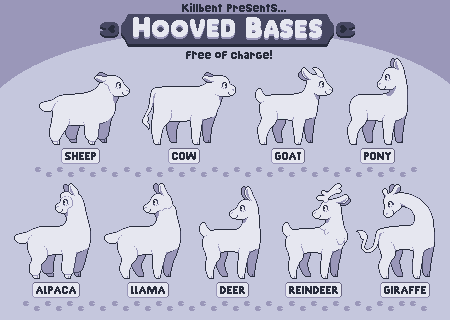 9 pixel ungulate bases to decorate as you wish! From sheep, to ponies, to giraffes. These little fellas are inspired by old-school MLP toys and the many, many ponies there are. Now you can make your own colorful, pixelated beast and have them on your site! Or put them wherever, idk I'm not the boss of you.
While my initial intention for these bases was to use them to make site adopts, I'm realizing my goal of ~21 adoptables will probably... take a while...
So! As I work on that and the text adventure you'll be able to collect them from, why not make the bases publically available?
Rules
1. If you are to use these bases in any way, and share them on your site or anywhere else, all I ask is that you credit me for the initial base. Whether it be naming me directly, linking to my site somewhere on yours, answering those who ask about it, or all of the above (please do all of the above).
2. I understand this is the bare minimum, and likely wouldn't stop those who would do it, but please do not use these bases to create anything harmful or hateful. i.e. portraying a racist caricature, adding a swastika to the design, ect.
3. Please do not sell any designs you make with these bases. These are free to use and I would prefer they not be used for commercial purposes. There is some looseness to this rule, though. If you were to draw your design yourself, not using the base, and then sell it, using your own illustrations as the selling point and not the original base, then this rule would not apply.
4. Do not under any circumstances use these bases for any NFT-related project or business. Do not use or sell them as NFTs.


Base List









Click here for a larger image!